This update covers
Changes in current Hospital Authority (HA) policies about children admitted with Covid.
A new updated emergency and out of hours advice pamphlet; please print and read carefully.
Easier access to the clinic for Covid recovered patients, how to document past infection and what tests can provide proof of past infection with Covid.
HA policies on children admitted with Covid.
The HA issued a statement on Tuesday which appeared to reverse its previous policy on not allowing parents to accompany children who are admitted with Covid. It says it will seek permission from the CHP for Covid negative parents to be allowed to stay with their Covid positive children. This change by the HA was in a large part due to work and advocacy by Central Health doctors alongside lobbying by legislators Hon. Ambrose Lam, Hon Stephen Wong, our Hong Kong Foundation and the Hong Kong Committee on Children's Rights. However this will now be a decision for the CHP and as far as we are aware they have not yet issued any new guidance.
Written resources on how to manage Covid in children are detailed in our previous updates and are available on our website.
www.rthk.hk/radio/radio3/programme/backchat
www.theguardian.com/world/2022/mar/29/hong-kong-hospitals-separate-covid-children-parents-u-turn-china
Central Health's charitable foundation has been advocating for better healthcare for vulnerable populations since 2015. We work with Pathfinders and Christian action to provide free urgent healthcare for refugees and non entitled domestic workers. Donations to the patient care foundation allow us to provide free medication and fund essential investigations. If you are interested in knowing more about what we do please email the contacts on the link below.
www.patientcarefoundation.com.hk/2015/05/07/charter-for-childrens-hospital/
Whilst we advocate for the rights of all parents and children, our out of hours service is only available to patients currently registered with Central Health. It would not be safe for us to provide this service for anyone who does not have up to date medical records with Central Health. Given the current pandemic situation we have a introduced a system for registering new patients remotely. Please note this can only be done during office hours by one of our family doctors who will need to ensure adequate information is recorded.
Our paediatricians and family doctors are now providing an out of hours Zoom consult service to central health patients.
Monday to Friday from 6 pm until 10pm
Saturday 2pm until 6pm and
Sundays from 9am to 4pm.
Please email them at:
childconsult@centralhealth.com.hk
gpconsult@centralhealth.com.hk
Outside of these hours, or if our paediatrician or family doctor does not respond promptly (they may be dealing with another emergency) you should phone the 24hr urgent/emergency/OPD phone line of of one the private hospitals. Our paediatricians are often on call at the Matilda hospital and will usually be able to see Central Health patients there when they are on call.
Procedures for obstetric advice and mental health emergencies remain unchanged and are detailed below.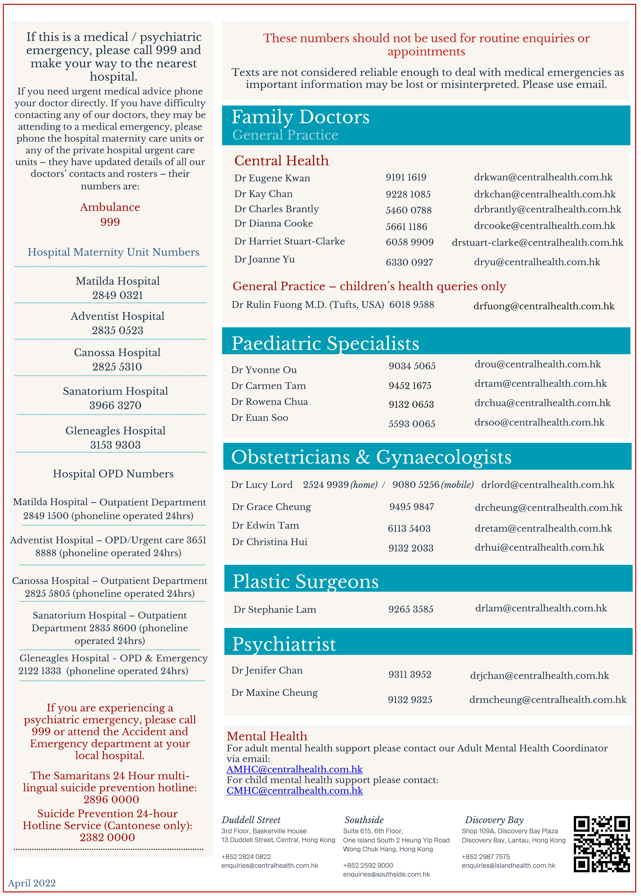 Easier access to the clinic for covid recovered patients, how to document past infection and what tests can provide proof of past infection with covid.
Access to the clinic
For those of you have tested positive please email us with the dates of your positive tests and we will update your notes which will allow you to access Central Health clinics without needing to fill in any forms or undergo further RAT testing.
For everyone else thank you for continuing to perform RAT tests at home or in the clinic. This has allowed us to protect vulnerable groups or those ineligible for vaccination.
SARS-CoV-2 recovery certificates
The tests detailed below can provide proof of past infection which may be accepted in the future by airlines, immigration and infection control authorities potentially increasing access to travel and possibly reducing the risk of quarantine. Proof of recovery certificates giving details of tests performed and signed by our doctors have already been helpful for our patients travelling to Malaysia. We are unsure as to if or when other countries/jurisdictions will recognise these certificates or which tests they will require. Understandably many of our patients have been requesting information on their options on this going forward and this is currently our best guess! We will of course update you as the situation evolves.
Proof of past infection by positive antigen tests
For those of you who have had a supervised positive RAT test or positive PCR
we can provide a certificate of recovery detailing the date and nature of the test.
Proof of past infection by positive SARS-CoV-2 antibody tests
For anyone who has had has tested positive for Covid or thinks they may have had Covid but have not undergone either of the above antigen tests there are antibody tests available that can prove past infection.
SARS-CoV-2 IgG sequential antibody tests
This requires a blood test pre and post Covid infection and unrelated to vaccination.
This test can be helpful for unvaccinated or vaccinated (Sinovac or BioNTec) patients. It requires you to have had a baseline antibody for SARS-CoV-2 IgG test prior to catching Covid.

SARS-CoV-2 nucleocapsid antibody tests
This post infection blood test checks for antibodies to the SARS-CoV-2 nucleocapsid protein. As the spike protein is the only immunogen in the BioNTech vaccine, detection of antibodies against viral nucleocapsid can be used as an indicator of previous natural infection. Early data suggests nucleocapsid antibody levels decrease over time, with 50% of people having undetectable levels 3 months following infection. Given this, it is best to have this test within 3 months of your being PCR/Antigen positive.
This test is not helpful for those patients who have received Sinovac as SARS-CoV-2 nucleocapsid antibodies can be produced in response to the vaccination with Sinovac.
For those of you who would like a certificate of recovery, for adults this can be done by our nurses. Cost of antibody blood test is $950 and certificates/exemption letter is $500.
You can make an appointment by emailing: enquiries@centralhealth.com.hk